A Maui wedding is popular for both destination weddings and beach weddings.
The details involved in arranging your Maui wedding are handled through the Travel Guide to Hawaii Wedding desk.
Weddings are arranged to take advantage of group travel bookings.
Leave the details to our wedding planners and your guests will be able to call us to make their travel arrangements.
Packages with a small deposit and payment plans make it easy for everyone to join your Maui wedding party.
Royal Lahaina Resort Beachfront Wedding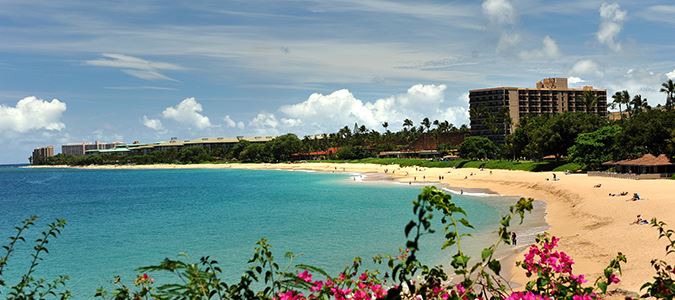 Due to government regulations Maui weddings on the beach can be tricky but our Maui wedding experts will arrange for permits and hep you select a beach location.
Wedding ceremonies on Kaanapali Beach are restricted, therefore, a private setting at The Royal Lahaina is the perfect solution.
The resort offers a beautiful grassy area adjacent to the beach with full wedding packages for any budget.
This is an excellent choice for a unique, private Maui wedding site.
To make everything perfect the resort includes expansive oceanfront lawns overlooking the beach and the ocean channel between Maui, Lanai, and Molokai Islands.
We can arrange an intimate private ceremony for 2 or an elaborate catered wedding which includes the reservations for family and friends.
Weddings and vow renewals at sunset include a wide variety of design choices for your special day. Call

Book with Rose at Travel Guide to Hawaii Wedding Desk
Rose will take care of all the details for you, 808-330-6865.
Weddings at Royal Lahaina Resort
---
Maui Wedding – Maltese Dreams and Barefoot Tours
Wedding packages are easy, simple and affordable.
Travel Guide to Hawaii and Maltese Dreams Wedding Planners provide you with a variety of Maui wedding packages. There are some "feet in the sand" locations available, permits required.
Included in your package are the permits and experienced, local photographers. Videos, florists, musicians and whatever is needed are provided with your package.
---
Aloha Maui Weddings
If you are looking for a Maui wedding designed for 2 – 6 people let Travel Guide to Hawaii make the arrangements for you.
Aloha Maui Weddings arranges you beach permit so if you are looking for a "Feet in the Sand" wedding site they have the experience to assist you.
"Here at Aloha Maui Weddings, you can enjoy informative and stress-free planning of your perfect wedding.
We believe it should be fun and creative! Every wedding is special — regardless of size — and as important and unique as your love for one another."
Ceremonies start from $425.00 for 2 for a simple beach wedding with no frills.
Larger parties are also available. Request a wedding package quote.
Book your Hawaii beach wedding through Travel Guide to Hawaii Wedding Desk
---
Maui'd Forever – Weddings on all Islands – Barefoot Tours
Perfect for those who want a unique wedding package that includes minister, photographer, flowers, licensing and a free wedding guide.
Book your wedding package through Travel Guide to Hawaii.
We can arrange your connection with Maui'd Forever.
Group rates for travel, guest and family vacation packages, and inter-island tours.
---
Maui Wedding or Honeymoon Private Charters
Maui Wedding Private Ocean Charters
There are 42 tours in this category that range in price from $61.90 to $4200.00.
We book for you through Barefoot Tours
Travel Guide to Hawaii can arrange almost any kind of private charter or special event including weddings and honeymoons.
---
Private Sailing Yacht
A truly unique wedding or honeymoon option is sailing on a pvate yacht.
You will be departing from Kaanapali Beach resort area at sunset to sail the ocean channel waters of West Maui, Molokai and Lanai Islands.
A private 43′ sailing yacht for romantic proposals, intimate weddings, celebrations or a relaxing sail for couples, families or friends.
Book Kainani Sailing Yacht – Barefoot Tours
Travel Guide to Hawaii's preferred Activity Booking Site.