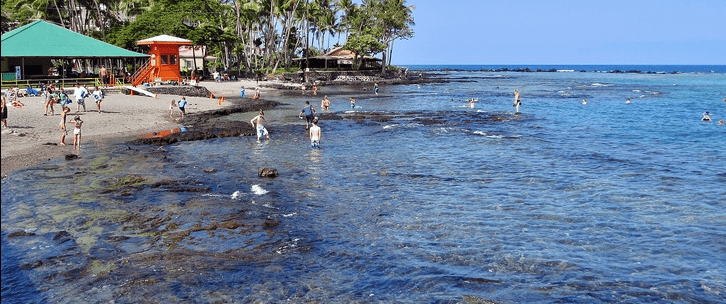 Hawaii Big Island Activities
There are lots of Big Island activities to enjoy during your visit and an ugly beach probably is not on your list.
Discover the great snorkeling at Kahaluu Beach Park. Kahaluu Beach may be unsightly at first but it has the best conditions for those who want to learn to snorkel.
The water along the beach shore is shallow with a rocky bottom so if you have water shoes this is your chance to use them.
Kahaluu Beach is near Kailua Kona Town and your hotel concierge can show you on the local map, arrive early for good parking.
The beach is black sand and the submerged giant rocks are home to thousands of fish, it is an underwater spectacle.
There are giant sea turtles, laying around like they own the place, and you can swim with them in shallow water or view them underwater from a large rock along the shore.
The park is open to the public but if you want to park your car you will need to be early as it is a very popular beach.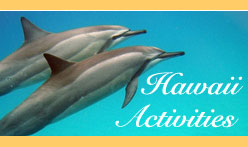 Include reservations Big Island activities and Big Island sightseeing tours with your vacation package, select from Big Island tours book online with Tom Barefoot Tours.
We have selected some of the most popular Big Island activities plus some links to websites that may be helpful for planning your sightseeing destinations.
Preview hundreds of activities and tours for each island.
Some of the most popular adventures are Helicopter, Luau, Historic Sights, Snorkeling, Waterfall Tour, Sunset Dinner Cruise and Circle Island Sightseeing Tours.
If you have a package booked through Blue Sky Tours your activities can be included in your travel itinerary.
Big Island Volcanoes National Park
---
Big Island Volcano Helicopter Tours
Hilo Circle of Fire and Waterfalls Big Island activities tour of the Kilauea volcano eruption through the rural farm lands of Kapoho Hawaii.
The most geologically active eruption on earth the tour flies over the most current areas of volcanic activity.
Views of lava flows and black sand beaches, and tropical rain forests and waterfalls.
Click here to view other Big Island helicopter tours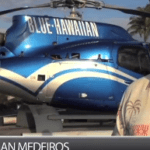 YouTube Blue Hawaiian from Hilo
---
Big Island Activities Complete Island Fixed Wing Air Tours
Enjoy the comfort of a fixed wing, 9 passenger Cessna Grand Caravan EX aircraft for a "complete island air tour" over the Big Island of Hawaii. Great views of the active Kilauea Volcano eruption in Kapoho Hawaii and Volcanoes National Park.
Views of the lush green valleys of ancient Hawaiian settlements established long ago in Waipio Valley adjacent to cascading waterfalls.
Vistas along the 266 miles of coastline including black and white sand beaches.
Every flight is fully narrated by your pilot whose knowledge of the Big Island's myths and legends make an unforgettable lesson in ancient lifestyles.
Discover why the geography and volcanology of the island defined the lifestyles of those who immigrated in canoes from the South Pacific throughout the flight.
YouTube Video Fixed Wing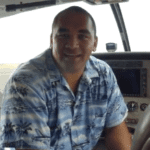 If you are staying in Kona or Waikoloa and you want to view the active volcano currently flowing into the ocean at Kapoho Bay on the east tip of the Big Island this fixed wing complete island tour is really comfortable.
Book with Travel Guide to Hawaii and Tom Barefoot Tours for the best deal.
---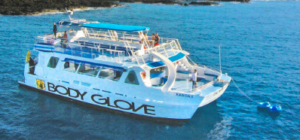 Featured Snorkel Activity The Body Glove
Enjoy a morning cruise and breakfast aboard the Body Glove Snorkel and Dolphin Watch, a custom Kanoa II is a 65′ custom catamaran.
Cascade down a 20 foot water-slide into the crystal blue waters where you may see dolphins , turtles and manta rays among the active reef life of calm reef life.
After your swim there are fresh water showers and hot meals.
The Body Glove departs from the Kailua-Kona pier daily and includes snorkel gear, beverages and meals.
Scuba gear, for those who are certified, is available for a fee.
Capacity: Can accommodate up to 105 passengers.
---
Big Island Luau

Island Breeze King Kamehameha Lu'au, Hawaii, Big Island
Island Breeze invites you to join the Ohana (family) and experience an evening of delicious food and authentic island entertainment!
The evening begins with a torch lighting ceremony and the arrival of the royal court at the beachfront of Kamakahonu Bay.
You will be welcomed with a shell lei greeting and invited to watch and learn some of the traditional arts & crafts.
Next feast on a sumptuous Hawaiian buffet featuring local favorites.
Following dinner, sit back for a celebration of love for Hawaii and Polynesia through dance and song.
The highlight of the evening is the Fire-knife Dance!
---
Big Island Volcano Helicopter Tour
45-Minute Open-Door Volcanoes Helicopter Flight, Hawaii, HI
Feel a Hawaiian volcano's heat radiate from its crater as you experience live volcanic activity up close, with nothing between you and the lava!
An open-door helicopter ride over a Big Island volcano is the adventure of a lifetime.
After the lava warms you up, you'll cool back down with breathtaking views of cascading waterfalls before soaring back to Hilo.
FYI:
I would avoid the green sand beaches. Too windy and rugged.
Mauna Kea Tours are overwhelming, and in my opinion, it is very cold and rough up there.
If you are determined we can talk about it.
Rainbow Falls and Akaka Falls are self guided and are easy access from Hilo.
Hidden Wonders: Drive the Red Road in Puna on the Hilo side.
Have the car company or your hotel show you how to get there. 20 miles from Hilo.
The Puna District is rain forest and jungle. Visit Lava Tree State Park, Kalapana and Pahoa.
All these areas are "off the beaten path" and the culture is "Old World" to put it nicely.
Watch you car, don't park in remote areas. Lock up.
Hawaii Beaches – Parks