7-day Hawaii Cruise Package
Cruise Around the Hawaiian Islands
Book your 7-Day cruise around the Hawaiian Islands with Rose and you will experience 5 ports in 7 days on your next Hawaii vacation.
Visit 4 Hawaiian Islands departing every Saturday from Honolulu on the island of Oahu.
---
All-inclusive Hawaii Multi-Island Cruise
Free at Sea All-Inclusive Cruise Discounts

Book Your Hawaii Cruise Package With Rose
Request a Free Phone Consultation
7-Day Cruise Itinerary
Oahu: Saturday: 7 PM Departure from Honolulu
Maui: Sunday and Monday: Port in Kahului Maui
Hilo Big Island: Tuesday: Port in Hilo on the east coast of the Big Island
Kona Big Island: Wednesday: Port at Kailua Kona on the west coast of the Big Island
Kauai: Thursday and Friday Morning: Port in Kauai
Oahu: Saturday: Disembark in Honolulu
---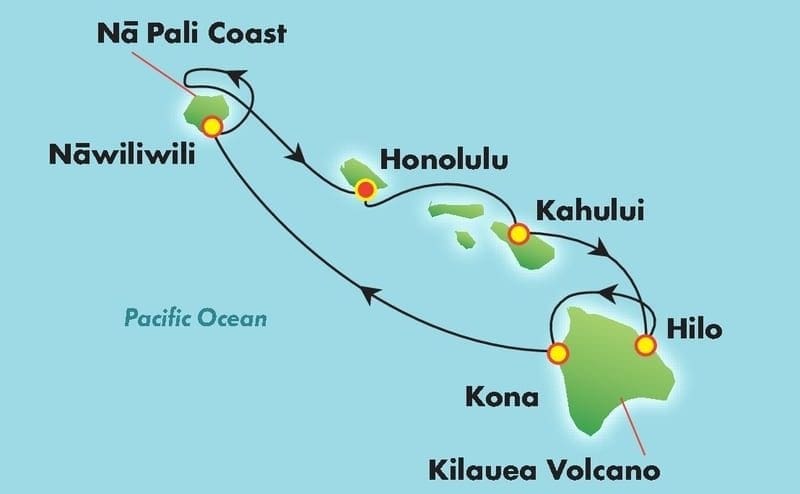 Select Your Cruise Date
Most promotions are available for Hawaii cruises for all dates, however, rate changes are unpredictable.
Ask us about the Free at Sea deals for your vacation dates. Request a quote.
---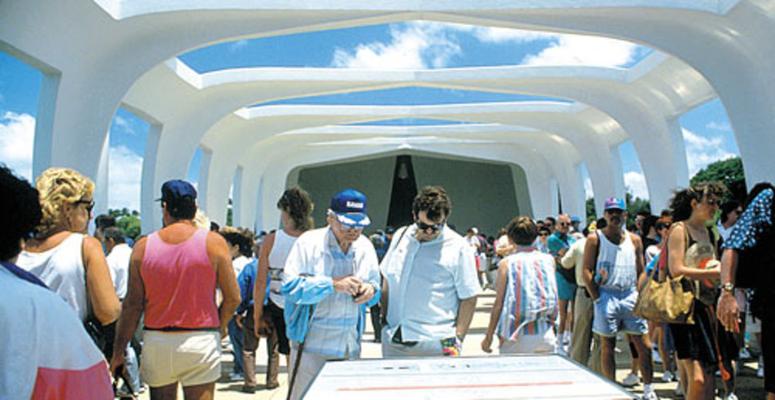 Pre and Post Cruise Hotel
Select and book your flights and hotel on 1 itinerary, and extend your stay so check out the 11-day, all-inclusive land and cruise package with 4 nights of hotel and tours on Oahu included.
Pearl Harbor on Oahu is one of Hawaii's most popular tours.
---
Unlimited Beverage Package
All beverages are free, including soft drinks, beers, spirits, cocktails, and wine, however, a prepaid gratuity fee will be added to the cost of the cruise.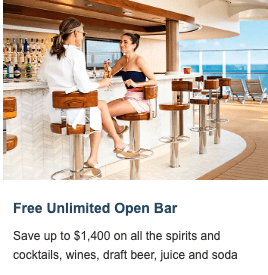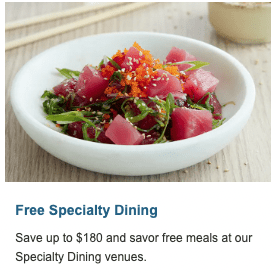 Specialty Dining Credit
Enjoy a free dinner in one of the ship's Specialty Dining restaurants with the "Free Specialty Dining" promotion.
A prepaid gratuity fee will be added to the cost of the cruise package.
---
Shore Excursion Credits
Hawaii cruise shore excursions are booked through the NCL website.
Once you have confirmed your cabin with a deposit you will be able to select your tours and activities for each port.
The free shore excursion credit is $50.00 per port, per cabin.
When you book your cruise through Travel Guide to Hawaii, we will work with you to go over the details of creating your activity calendar.
The lead passenger qualifies for the credit.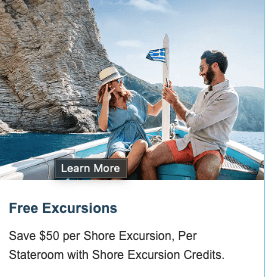 ---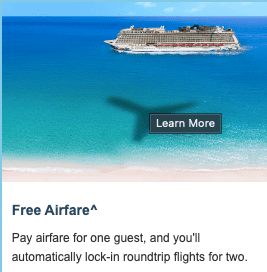 2nd Guest Discount on Flights
2nd Guest Flies Free Air Offer

If you choose round-trip flights, guest 1 pays the full promotional airfare, guest 2 flies free.
The NCL staff will select the best flights available and will be booked in the lowest class of service, 30 days prior to the date the cruise sails.
---
---