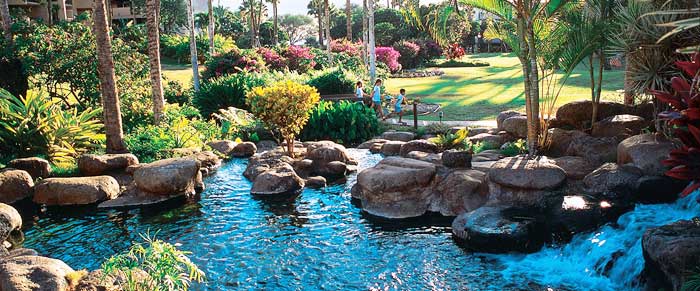 South Maui Condos
Kihei, Wailea and Makena are the districts with South Maui condos. Kihei is adjacent to the long, white, sandy beaches of Kamaole (ka-ma-o-le) Beach Parks.
South Maui is quieter than West Maui, the condos and resorts have larger parcels of land, with beautiful gardens and trees, and the county maintains the beach parks with bathrooms, showers and life guards.
It is like being on a different island. You can book a Maui vacation with some nights in the West Maui district and some nights in the South Maui district.
Most of the south Maui condos are across the road from the beaches with the Aston Maui Banyan and the Maui Kamaole being the closest condominium complexes near Kamaole II beach.
The Aston Maui Hill is on an elevated parcel above Kamaole I beach. The Maui Hill offers 2 and 3 bedroom units at a great price, some with ocean vistas.

South Maui Condos are perfect for families traveling on a budget. Complete the Free Consultation form and we will help you select a property that works for you.
Kamaole Sands Kihei Condos
Four Stars
Conveniently located in Kihei on Maui's Gold Coast near Wailea. The Kamaole Sands combines spacious condominium units with the luxury of maid service. Indulge in swimming, tennis, jacuzzi, or let the tour desk help you explore the sights of Maui. Complimentary coffee served daily in the lobby.
At Castle Resorts' Kamaole Sands, you're in a perfect position to experience the best that Maui has to offer. Our fifteen-acre tropical resort provides a warm, relaxed vacation setting, filled with fish ponds and flower blossoms, gardens and waterfalls.  Studio, 1-Bedroom, 2-Bedroom.
---

Kihei Akahi Condos
Four Stars
This Southern Kihei offers spacious studio and one and two bedroom condominiums with private lanai. Each unit has a fully equipped kitchen, color TV, telephone, and washer/dryer. Studio, One Bedroom, Two Bedroom.
The condos are located across the street from Kamaole Beach 2, one of Maui's best swimming beaches.
---

Maui Banyan Condos
Three Stars
Well-appointed condominium resort in sunny Kihei, across the street from popular Kamaole Beach Park II. Hotel rooms with mini-refrigerators and one-, two- and three-bedroom suites with fully equipped kitchens, private lanais and in-room washer/dryers.  1 bedroom or 2 bedroom.
---

Aston Maui Hill Condos
Four Stars
A quiet, exclusive hideaway located just minutes from Wailea, where every guest is pampered with personalized service and attention.
The Aston Maui Hill offers spacious one-, two-, and three-bedroom suites with full kitchens and private lanais all with ocean views.
Enjoy a game of tennis, play shuffleboard, practice golf at the putting green or just relax by the pool.  1-Bedroom, 2-Bedroom, and 3-Bedroom
---

Maui Kamaole Condo
Four Stars
Located in Kihei just minutes away from the three sunny Kamaole beaches, this condominium complex features tropical gardens, heated pool, jacuzzi, and barbecues.
Both one and two bedroom units include fully-equipped kitchens, private lanais, two bathrooms, cable TV, and washer/dryer. Rates shown include daily maid service.
1 Bedroom: 1 king, 1 queen, or 2 twins & sofabed;
2 Bedroom: 1 king or 1 queen, 2 twins & sofabed.
---

Outrigger Palms at Wailea Condos
Four Stars
The Outrigger Palms at Wailea offers luxury with the privacy and convenience of tastefully appointed one and two-bedroom condominium suites.
The lushly landscaped grounds feature a sparkling stream, winding walkways and a refreshing swimming pool and spa.
Nearby lie some of Maui's most spectacular beaches, famous for windsurfing, sunning and swimming.  1 Bedroom or 2 Bedroom.
---

Mana Kai Condos
Four Stars
Mana Kai offers spacious hotel, one and two bedroom condominiums, each with it's own private lanai. All condos have an oceanfront views.  Mana Kai is located directly on Keawakapu Beach.
1-Bedroom or 2-Bedroom