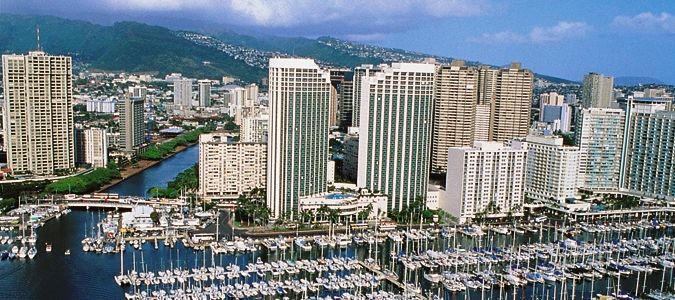 Oahu South Shore Honolulu Hotels
Budget-Friendly Oahu South Shore Honolulu Hotels in the Waikiki Beach District
Hotels that are just a little off the beach are a good deal for visitors to Oahu who wants to get out and around during their stay. The Hawaii Prince Hotel is one of the best deals for luxury accommodations in Honolulu. Every room is oceanfront with ceiling to floor windows that open to overlook the Waikiki Yacht Harbor.
Most are a block or two from the beach. Choose from some of the best 3-star Honolulu hotels in the Waikiki Beach resort district. There are lively street performers and many shops and cafes. Close to Kapiolani Park and Honolulu Zoo, the Aquarium, and lots of shopping. Starbucks too. An easy walk to the beach, each of these hotels is one of my personal favorites.
---
Ilikai Hotel
Three Stars
The Ilikai Hotel is a good choice for visitors who want an ocean view room with a kitchenette.
The Ilikai is at the west end of Waikiki Beach facing the boat harbor and lagoon.
The nearest beach is a short walk around the lagoon. It is also an easy walk to Ala Moana Beach Park.
---
Sheraton Princess Kaiulani
Four Stars
The Sheraton Princess Kaiulani is a luxury budget hotel in the heart of Waikiki.
Across the street from Waikiki Beach and adjacent to the International Marketplace.
The high ocean view rooms are the best value for a spectacular view of sunsets and the Pacific Ocean.
---
Aqua Palms Hotel
Three Stars
My favorite Aqua hotel because I love the location. Contemporary boutique hotel located one block from the beach and across from the Hilton Hawaiian Village. Aqua SPA facilities and a fitness center are located poolside.  Hotel room City View, Diamondhead view; Deluxe Junior Suite;  Luxury 1 Bedroom Suite with Kitchen.
---
Hawaii Prince Hotel
Four Stars
Frontage on the Waikiki Yacht Harbor, the Hawaii Prince Hotel is unique in Honolulu.
Your room is at the water's edge with floor-to-ceiling windows. The nearest beach is about one block from the Hilton. Play as much golf as you want at the magnificent Hapuna Golf Course.
---

Hilton Waikiki
Four Stars
It looks like this hotel is on the beach but it is located a block back from Waikiki Beach.
The short walk makes it a great choice if you want an ocean or mountain view room for a good rate.
Club exclusive rooms and suites are located on the 34th through 37th floors and offer special amenities.
---
Park Shore Waikiki Hotel
Three Stars
Located across from Waikiki Beach the Park Shore is overlooking Diamond Head and Kapiolani Park.
Comfortable accommodations for the budget traveler.
Within walking distance of the International Marketplace.
All rooms have private lanais, air-conditioning, and premium cable TV. Outdoor swimming pool and deck.  1 king or 1 queen or 2 doubles
---