Cruise Hawaii to Tahiti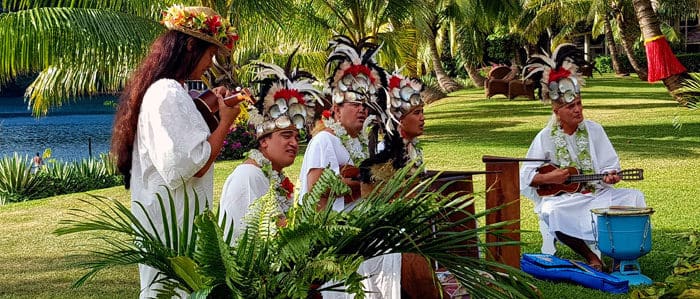 14-day Cruise from Hawaii to Tahiti
---
---
Sail from Honolulu to Papeete
Sail from one paradise to another on a 14-day cruise from Honolulu to Papeete
Starting with a stay on the Island of Oahu, the home of Waikiki Beach and the center of business in Honolulu, your cruise boards at the Aloha Pier for a 2-week cruise to Papeete in the South Pacific.
Extend Your Stay in Honolulu
Oahu is a haven for pro surfers, especially at the legendary North Shore where waves can reach 50 feet and higher. Just watching is exhilarating.
If you're a Jurassic Park fan, the verdant peaks and valleys of Kauai might look familiar.
Since you're here overnight, be sure to partake in a luau with authentic cuisine and fire dancers—and see Waimea Canyon.
Enjoy authentic Polynesian cuisine on the Norwegian Jewel
Mix it up with an Exciting Variety of Bars & Lounges
Norwegian Jewel cruise offers a variety of culinary experiences with 15 bars and lounges, each with its own unique vibe.
Dance to the music of the islands in the Bliss Ultra Lounge.
The open bar promotion includes champagne, sake, or scotch. Lounge poolside with an umbrella drink.
Play pool at the pub. Follow your mood and mingle.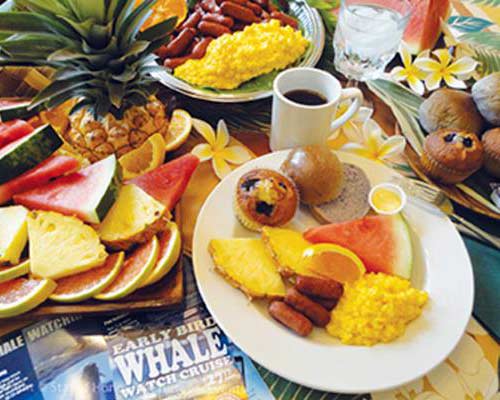 ---
Cruise to Bora Bora, Nuku Hiva, Moorea, and Papeete.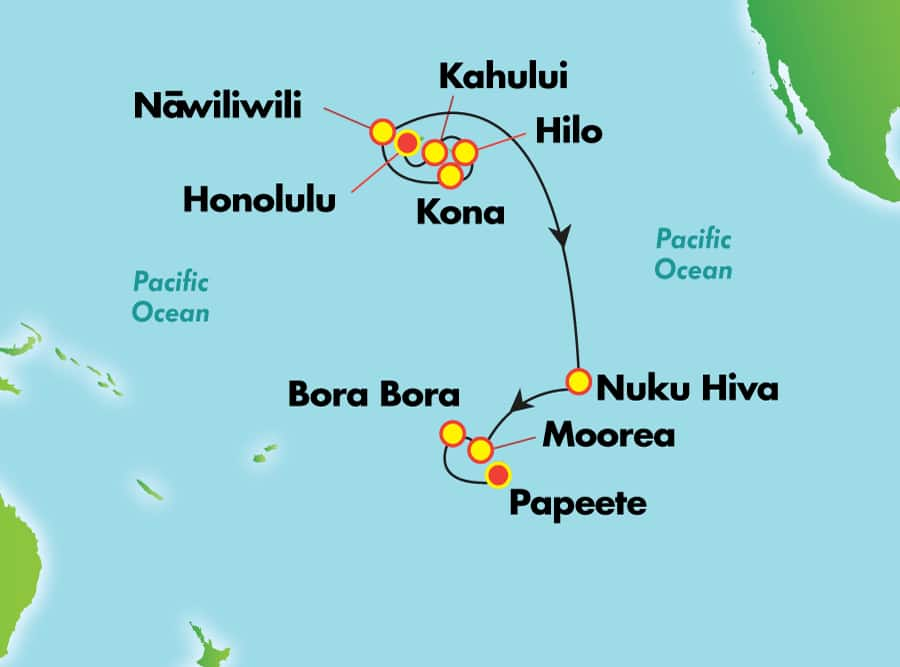 Cruise to Bora Bora, Nuku Hiva, Moorea, and Papeete. Every view is a postcard, including the peaceful quaint villages.
Bring a bottle of Monoi oil home and the fragrance will transport you back to Tahiti time and again.
---
Relax and unwind on the newly enhanced Norwegian Jewel.
| Day | Cruise Ports | Arrive | Depart |
| --- | --- | --- | --- |
| Fri | Honolulu, Oahu (EMBARK) | — | 5:00 pm |
| Sat | Kahului, Maui | 8:00 am | 6:00 pm |
| Sun | Hilo, Hawaii | 8:00 am | 6:00 pm |
| Mon | Kona, Hawaii | 8:00 am | 6:00 pm |
| Tue | Nāwiliwili, Kaua`i | 8:00 am | Overnight |
| Wed | Nāwiliwili, Kaua`i | — | 7:00 am |
| Thu | At Sea | — | — |
| Fri | At Sea | — | — |
| Sat | At Sea | — | — |
| Sun | At Sea | — | — |
| Mon | Nuku Hiva, French Polynesia | 8:00 am | 4:00 pm |
| Tue | At Sea | — | — |
| Wed | Moorea, French Polynesia | 8:00 am | 6:00 pm |
| Thu | Bora Bora, French Polynesia | 8:00 am | 6:00 pm |
| Fri | Papeete, Tahiti, French Polynesia (DISEMBARK) | 6:00 am | — |