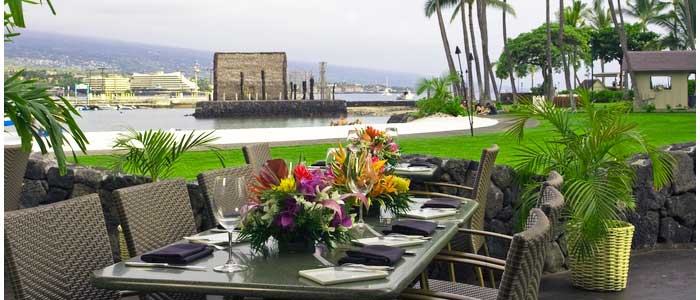 Big Island West Shore Resorts
Welcome to the amazing Big Island West Shore resorts and hotels.
Your stay will include the experience of ancient Hawaiian villages along the rugged Kona Coast which extends from south of the Kona Village to north of Kohala.
Kona Coast Resorts, Hotels, and Vacation Rental Condos
Select a Kona hotel or condo for your stay in Kailua Kona Town on the Big Island.
One of the best destinations for visitors who want to experience the feeling of local Hawaiian lifestyles.
Families still earn their living by fishing, farming and living the traditional lifestyles of Hawaii.
Stroll along with the oceanfront setting with shops, dining, museums, art galleries.
Visit the Queen's Palace, the original stone church with steeple and bell, and so much more. Ocean activities are abundant all along the Kona Coast.

Royal Kona Resort
Three Star Resort
Walking distance from Kailua village, the Royal Kona Resort overlooks Kailua Bay on the south end of the Kona Coast resorts. The oceanfront setting features a private beach with a lagoon and pool area. Check rates on the oceanfront corner room. It has two balconies with views to the north and south.
---

Courtyard By Marriott Kona Resort
Three Star Resort
Oceanfront in Kailua-Kona. The Marriott is on the only white sand beach in the Kailua Village district. Known locally as the "King Kam" this location was a favorite spot for vacationing among Hawaiian royalty. King Kamehameha's Kona Beach Hotel has been renovated recently and is a good choice for beachfront accommodations in Kona Town on the Big Island west shore resorts options.
---

Sheraton Keauhou Resort
Four-Star Resort
The Sheraton Keauhou Bay Resort and Spa is on the cliff overlooking the Keauhou Bay. The Keauhou Bay Sheraton is a good choice for budget and adventure travelers who want a four-star resort with a water slide for the children. The closest beach is at the boat harbor, a short walk but much easier to go in the car. It gets hot in this region.
---

Aston Kona By The Sea Condos
Three Star Condo
This 3 star Condo Kailua Kona is in Kona Hawai. All suites are elegantly furnished and have fully equipped kitchens including microwave and laundry facilities. Enjoy spectacular views and sunsets from your oceanfront lanai.  1 bedroom or 2 bedrooms.
---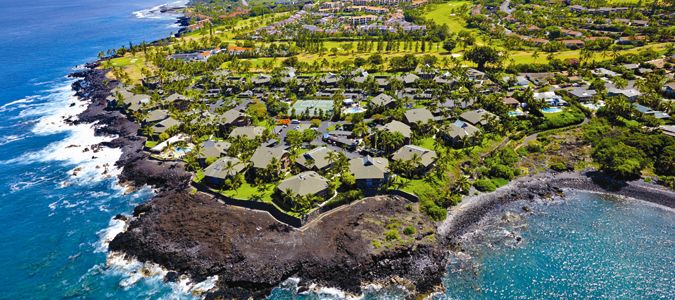 Kanaloa At Kona By Outrigger
Three Star Condo
Located on a volcanic point the Kanaloa offers gorgeous views from bungalow style, low rise suites with full kitchens. One, two or three-bedroom units surrounded by 18 hole golf course. 4 miles south of Kailua Kona Village.
---

Royal Sea Cliff Condos
Three Star Condo
This Superior Hotel is in Kona Hawaii
A luxury all-suite resort offering completely equipped condominium units including microwaves, dishwashers and laundry facilities. Also, enjoy the many outdoor activities available. 1-Bedroom  or 2-Bedroom.
Thank you for requesting more information. We will contact you.