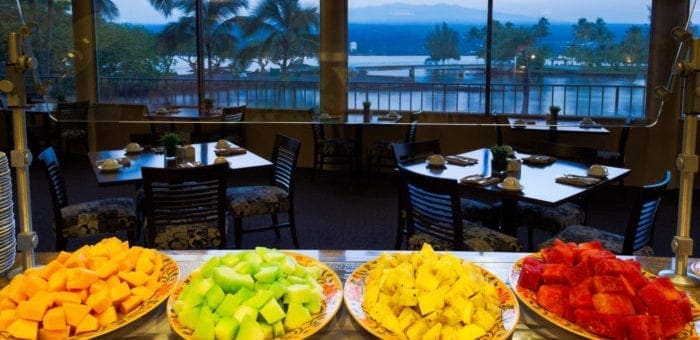 Big Island Hilo Resorts
Newly renovated guest rooms and suites, Hilo Hawaiian's oceanfront resort offers air-conditioned rooms and suites. We recommend the ocean view room category with views of  Coconut Island and the beautiful views of the volcanic mountains in the distance. Guest rooms have a private lanai (balcony). The airport is close to the Hilo and the Hilo Hawaiian Hotel.
Hilo Hawaiian Hotel
Three Stars
What's unique about Hilo Hawaii?
Hilo Town is the center for sports fishing and commercial fishing for the Big Island.
Local fishermen and their co-workers set out every day, weather permitting, to earn the living by catching the wide variety of fish that populate the waters around the east and south coasts.
Returning to shore their catch is off loaded to the fish market at the Hilo pier.
Visitors to Hilo will get some amazing photos if they arrive at the fish market in the early morning with their cameras ready.
The variety of large and small fish that are offered to the public every morning is one of the most popular sights for visitors to Hilo.
Hilo is neat the Volcanoes National Park
The Aqua Volcano House Hotel is inside the national park. The west coast offers more choices for hotels on the Big Island.
East Shore of the Big Island Hilo resorts  on the south east coast, visitors to the Big Island can spend one night in Hilo to visit the Volcanoes National Park.
The park is 28 miles from Hilo, there is an airport in Hilo Town with inter-island flights from other islands are frequent.
Volcanoes National Park is 28 miles from Hilo on the flanks of Kilauea Caldera.  The Hilo Hawaiian Hotel in Hilo Town. To view the eruption in the dark if you are lucky enough to visit during an eruption you would check your belongings into your room prior to your night viewing adventure.  Check with the hotel desk for contact information for the park. You will be advised by the park rangers about the best location for viewing.
---
Volcano House Hotel
Three Stars
Volcano House Hotel in Volcanoes National Park.
This unique hotel is located 4,000 feet above the Pacific on the rim of Kilauea Crater.  You'll step back in time in the gracious, old-fashioned comfort of the cozy 42-room country lodge. The award-winning restaurant has a spectacular view of the caldera. No televisions available.