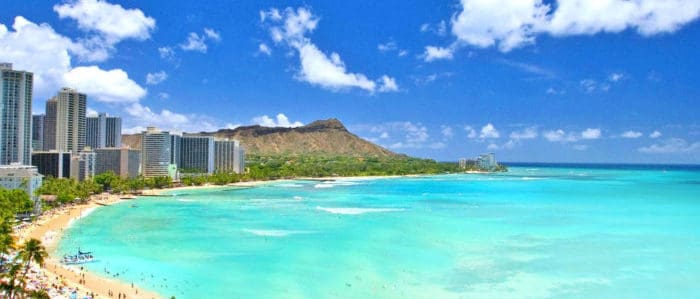 Waikiki Beach Resorts
There are seven Waikiki Beach resorts that have a beach front locations. There is something unique about each of these resorts. The Hilton Hawaiian Village has the best swimming conditions for adults and children. The salt water lagoon is ideal for children of all ages.
Links to the official websites for Waikiki Beach resorts are provided. Take advantage of reduced rates when you book a vacation package through Travel Guide to Hawaii.

Five Stars
World-class accommodations located on 22 tropical acres, this resort is perfect for families and offers an extensive year-round children's program. Nightly entertainment on the beach, this is an amazing resort. Official Site
---

The Halekulani is full luxury with a quiet vibe and first class service.
Six Stars. Waikiki's only 6 star hotel, the internationally famous the Halekulani is distinctive in understated elegance, graciousness and award winning cuisine. The spacious rooms, most with ocean views, have large lanais, soaking tubs and glassed-in showers. Official Site
---

Five Stars
The Moana Surfrider is undeniably Hawaiian in style and décor. Modern comforts combined with traditional Hawaiian art and furniture. The Moana offers a level of elegance and grace that is not matched by any hotel in the state of Hawaii. Official Site
---

Royal Hawaiian is known as the "Pink Palace". The furnishings are like being in an art gallery.
Five Stars
Opened in 1927, it brought fame to Waikiki Beach and Honolulu – and its lure is just as powerful today. The Royal Hawaiian Hotel is unforgettable. Luxurious furnishing, tapestries and floral arrangement create a beautiful experience. Official Site
---

Outrigger Waikiki is a lively, active resort with a popular local bar with lots of great music.
Five Stars
A fun and lively environment for guests seeking a destination that is really comfortable with lots going on. Wonderful restaurants and lots of music. Outrigger Waikiki Hotel is right on Waikiki Beach. The sand and waves are as close to perfect as you can find anywhere. Official Site
---

Outrigger Reef is great for its dedication to local entertainment and has one of the best chefs in Waikiki.
Five Stars
Hawaiian Hospitality is alive at Outrigger Reef on Waikiki Beach.   New expressions of time-honored traditions: a sunrise Hawaiian vow renewal ceremony and an evening of slack-key guitar. The hotel has a spacious lobby with warm ocean breezes and nightly Hawaiian dance and music. Two ocean front restaurants with a variety of menu choices. Official Site
---

Sheraton Waikiki is a "hustle bustle" resort with lots of shops and cafes and great pools.
Five Stars
Visitors to the Sheraton Waikiki will find a lively, multi-cultural environment with easy access to a great beach. The Sheraton Waikiki Resort is adjacent to the Royal Hawaiian Center and Beachwalk. There are shops, cafes, and street performers. Official Site
Hotels Across From Waikiki Beach
Across from the beach
---

Four Stars
Located across from Waikiki Beach, with views of the famous beach and Diamond Head. The hotel is within walking distance to the Honolulu Zoo, the Waikiki Aquarium, and Kapiolani Park. Official Site
---

Five Stars
If you are traveling with children the Hyatt is a great choice. The rooms are large and there is a family rate for two adjoining rooms. The beach, across the street, has a rock wall that provides a safe ocean experience for children of any age. Official Site
---

Three Stars
The Ilikai Hotel is a good choice for visitors who want an ocean view room with a kitchenette. The Ilikai is at the west end of Waikii Beach facing the boat harbor and lagoon. The nearest beach is a short walk around the lagoon. It is also an easy walk to Ala Moana Beach Park. Restaurants and shops in the building. For Hawaii travelers who bring business with them, we have a full service business center. Amenities include 27inch color TV with on demand movies and high speed internet in all hotel rooms. For the health conscious, we offer a fitness center, a swimming pool and a plexipave tennis court. Official Site
---

Four Stars
Classic comfort in elegantly appointed guest rooms and suites. Fall in love with the Aloha spirit at the Waikiki Beach Marriott Resort and Spa. A lavish destination our stunning resort is a true tropical paradise where you can escape your cares. Official Site
Map of Oahu Resort District