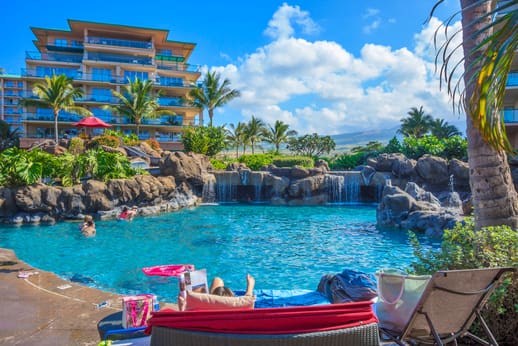 Maui Resorts and Condos
Most first-time visitors to Hawaii select Maui resorts as their destination.
The climate is warm and breezy, the beaches are white sand.
There are many cove beaches with reef outcroppings for great snorkeling right off the beach
Lahaina Town is the center for shopping and dining on the west side of Maui.
The Harbor in Lahaina is the port for inter-island ferries, ocean activities and sightseeing.
Call 808-330-6865 for more information about Maui accommodations.
Royal Experience Value Package at the Royal Lahaina, an ocean view room, free daily breakfast, luau tickets, and a sunset dinner cruise for 2 persons.
West Maui Black Rock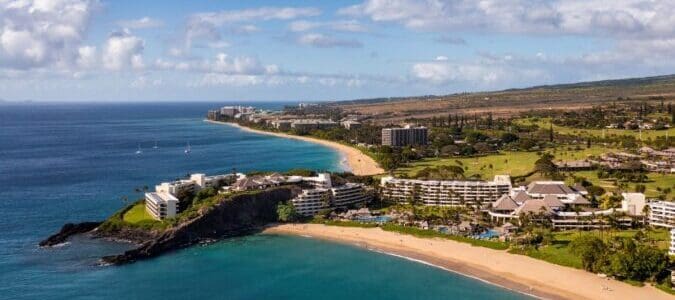 West Maui Regions Listed South to North
Lahaina Town – Village lifestyle, cafes, galleries, boat harbor.
Kaanapali Beach – Luxury resorts, Whalers Village, Black Rock.
Honokowai Beach – Moderate hotels and condos, rocky beaches.
Napili Beach – Napili Kai Resort. Calm, sandy, cove beach.
Kahana Beach – Royal Kahana Condo, narrow beach, whale watching.
Kapalua Town – Ritz Carlton, village lifestyle condos, nice beach, golf.
The ocean conditions are perfect for swimming and snorkeling. Families with children can select 1, 2, or 3 bedroom condo resorts, some with children's programs.
Whales are visiting Maui in the winter and whale watching is excellent from West Shore oceanfront resorts.
Book an oceanfront room if you want a front and center view of the whale migration.For more information about accommodations on Maui click the links.
Property details, current promotions, and Trip Advisor reviews open in a new window.
Things To Do on Maui
Road to Hana – A winding drive along the coast, the road to Hana terminates at a classic Hawaiian small town. The road is full of hairpin turns, one-lane bridges, and breathtaking island views.
Waterfalls Hana – A series of seven beautiful pools fed by waterfalls.
East Maui – Iao Valley State Park – Visit the 1,200-foot Iao Needle or hike in the 4,000-acre valley.
East Maui Haleakala National Park – Go on an excursion to the "House of the Sun", to a sleeping volcano mountaintop.
Snorkel Cruise to Molokini – A small island just off the southern coast of Maui creates a paradise for snorkelers and divers looking for beautiful coral and tropical fish.
Winter Whale watching – Calm, clear, shallow waters create the perfect environment to attract whales during the winter season (December – May). Visitors will find a variety of options for whale watching experiences departing from Lahaina which can be followed by a visit to the town's shops, art galleries, and restaurants.
Maui Traditional Luau – Rich with Hawaiian history, the shores of Maui are the perfect setting to experience a traditional luau, including the main course cooked in the earth accompanied by live music and a hula dance sharing Hawaii's stories.
West Maui Golfer's Getaway – With 14 courses to choose from the best golf courses. Tee off near ancient lava flows, and palm trees with an ocean mist.
East Maui Upcountry – Paniolos, also known as Hawaiian cowboys, spent their time in the small Upcountry town of Makawao, where you'll find famous cream puffs at T. Komoda Store in addition to other boutiques and galleries. While in Upcountry, make a stop at Maui Wine for a tour and tasting – we recommend the pineapple wine.
---
The Island of Molokai is in the channel north of Maui and Lanai. Molokai offers no public transportation so you will need to rent a car in advance. There is one condo resort. Molokai is a good destination for a day trip from Maui.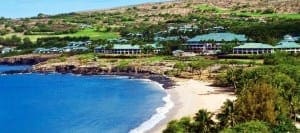 If you want to experience the lifestyle of "Old Hawaii" Molokai offers a destination with a strong connection to the history of the Hawaiian Islands.

 808-330-6865 Rose Royse