Hilton Hawaiian Village Oahu
Family Favorite Resort on Waikiki Beach, Island of Oahu
On the Island of Oahu, the Hilton Hawaiian Village provides many good options for accommodations.
There are 5 towers within the 23 acres of the village that offer a variety of room categories and views.
This is a good choice for families with children. The swimming conditions in the lagoon are excellent for safe swimming for all ages.  Here are a few links to some of the amenities.
 Children's Programs – Beach and Lagoon – Pools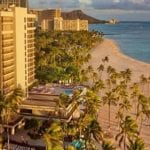 At the Hilton, you may be interested in the Ali'i Tower.
The Ali'i Tower at the Hilton Hawaiian Village is on the beach with pool and exercise areas that are dedicated to the guests staying in the Ali'i Tower.
There are partial ocean view and ocean view rooms available at this time. This is one of the only resorts on Oahu that allows you to request "guaranteed" adjoining rooms if you would like 2 rooms together for the family of 5.
I checked the rates and there are several options within the budget you mentioned for accommodations.
---
Hyatt Regency Waikiki Beach Resort and Spa
The Hyatt Regency is across the street from the beach. It is an upscale property and is newer than the Hilton.
Hyatt Regency Waikiki Beach Resort and Spa 4 Ocean View Rooms
7 Nights for 11 Guests
The rooms are large and the bedding offered is 1 king or 2 queens. There is no option for guaranteed connecting rooms.
The family of 5 will be able to book 2 rooms as one of the children is over 18 years old. We can request adjacent rooms.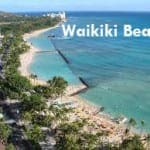 The beach is across the street where there is a peaceful lagoon for the children and good swimming and surfing for the teens.
Buffet Breakfast
*Includes daily buffet breakfast for all paying adults ages 19 & up.
The district at the Hyatt is busier than the Hilton and the rates are a little higher but it is more elegant.
I checked Maui and found the hotel rates are quite a bit higher for these dates.
I hope this is helpful.
Warmest Aloha,
Rose at Travel Guide to Hawaii
707-776-6865 Text
808-330-6865 Cell
rose@travelguidetohawaii.com