Hawaii Island Hopper Day Trips
Consider booking a Hawaii island hopper day trip vacation package and visit as many islands that your time in the islands will permit.
For the best value the Island of Oahu is a great choice for your "home base" hotel with day trips to each of the other islands.
Oahu has to most choices to adventures on the neighbor islands.
From Oahu there are many inter island tours and adventures.
Take a One-Day Oahu to Big Island Volcano Tour or a one day trip to the other Hawaiian Islands from Oahu.
Your stay on Oahu is not just limited to tours on Oahu, enjoy a day trip to visit:
The Hana Coastline on Maui
Don't Miss the Big Island Volcano Tour
Fly to Molokai and tour Father Damien's Leper Colony
Wailua River on Kauai and a visit the Fern Grotto
Enjoy the ease of Hawaii island hopper day trips which includes transportation from your hotel to the airport, flight to outer island, and guided tours.
The tour company will return you to the airport where you will return to Honolulu airport and boadrd a shuttle back to your hotel.
Hawaii island hopper day trips from Oahu to Maui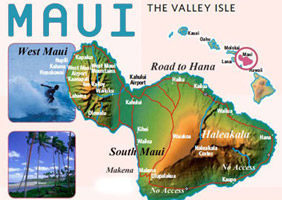 Hawaii inter island day trip to Maui
Fly from Honolulu airport on Oahu to the island of Maui for a Hawaii inter island day trip to Maui's Hana coast.
Stops include Paia Town and the best wind surfing beach on Maui, Ho'okipa Beach Park
Your driver/guide escorts you to the most popular state parks and overlooks on the east coast of the island.
When weather is permitting guests have an opportunity to swim in a waterfall fed pool during the visit to Pua'a Ka'a State Wayside Park.
Hawaii island hopper day trips from Oahu to Hilo

Hawaii inter island day trip to Hilo
Fly on Hawaiian Airlines from Oahu to Hilo for a "One Day Volcano Adventure" tour to see Hawaii's active volcano eruption and waterfalls from the air on Blue Hawaiian waterfall and volcano helicopter tour.
Your driver/guide will take you to the Big Island's most popular sightseeing locations on a comfortable coach tour.
Your "One Day Combo Tour" offers a 45-minute helicopter flight and a tour of the Mauna Loa Macadamia Nut headquarters in Hilo.
Hawaii island hopper day trips from Oahu to Kauai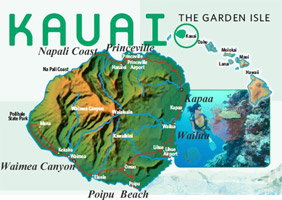 Fly from Oahu to Kauai on Hawaiian Airlines for a Hawaii Island Hopper Day Trip to Kauai.
See Kauai's beauty and grace with a driver/guide on an unforgettable adventure.
Enjoy a land tour to Ahukini Landing, Lydgate Beach, Kilauea Princeville, Kapa'a, Kealia Overlook and other breathtaking locations.
Lunch at Tahiti Nui, featured in the film "The Descendants" with George Clooney.
Hawaii island hopper day trips from Oahu to Molokai

Hawaii inter island day trips to the Island of Molokai
Topside Molokai from Oahu – Makani Kai Air Charters
This day tour visits topside Molokai.
Sights include the Molokai Museum, Pala'au State Park, Purdy's Macadamia Nut Farm, Kapuaiwa Coconut Grove, St. Joseph's Church, Kaunakakai Harbor and more.
The tour is done in air conditioned vehicles with a local guide to give the history and points of interest found on Molokai.
Include a Hawaii Island Hopper Day Trip in your Hawaii vacation package.
Hawaii Island Hopper Cruise Shore Excursions booked with transportation from the ship.
Request a Hawaii Island Hopper vacation package quote by phone.
https://www.huffingtonpost.com/entry/travel-molokai-hawaii_us_562eb6ece4b0c66bae593659
Are there more options for Hawaii island hopping adventures to Maui?
Answer: Yes, here are the links
https://www.tombarefoot.com/hawaii-activities/polynesian-adventuretours/from-oahu-(m-2)-hana-gold/3652/2188
https://www.tombarefoot.com/hawaii-activities/polynesian-adventuretours/from-oahu(m-2)-hana/1440/2188
https://www.tombarefoot.com/hawaii-activities/polynesian-adventuretours/from-oahu-(m-1)-best-of-maui/1439/2188
https://www.tombarefoot.com/hawaii-activities/discover-hidden-hawaii-tours/from-oahu-21w-road-to-hana-maui/3837/2188