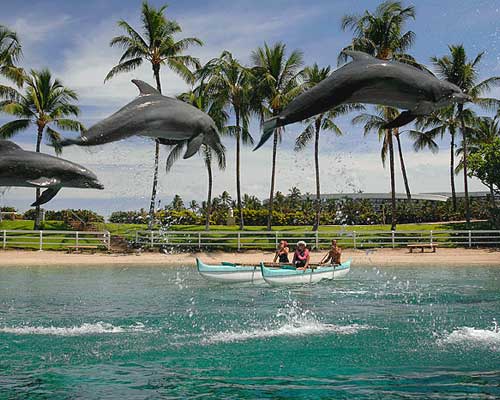 Dolphin Swim Hawaii on Oahu or the Big Island
Get into the water and and experience a dolphin swim Hawaii adventure with a professional dolphin trainer.
Aloha From Rose at Travel Guide to Hawaii.
Sea Life Park is an Oahu aquarium with dolphin encounters!
Greet a sea lion, swim with sharks, or swim with dolphins! Book early to guarantee your spot.
I have visited Sea Life Park several times and I highly recommend it for families with children.
It is a great way to spend the entire day.
For more information call Rose at 808-330-6865.
Hawaii was the very first Dolphin Quest location.
It serves as a sanctuary for resident dolphins living at the Hilton Waikoloa Village.
Hilton Main Lagoon facts:
The dolphins swim from the Dolphin Quest lagoon into the expansive Hilton Main Lagoon, beach front at the Hilton Waikoloa Village.
This ocean-fed saltwater lagoon is four acres of protected native ponds.
The water and shore conditions are perfect for snorkeling and swimming
The lagoon is filled with various fish, green sea turtles, and even the occasional monk seal.
This  part of our facility provides exciting opportunities for our dolphins and guests to connect in a large open space
The Hilton is a destination resort on the Big Island of Hawaii.
Travel Guide to Hawaii highly recommends the Hilton Waikoloa Village for visitors to the Big Island.