Christmas in Hawaii
---
FOR AMY: Private Home 6 bedrooms, 3 Baths. Sleep 14,
A/C, Game Room, Two Kitchens, Close to Laniakea Beach, near the town of Haleiwa on Oahu

Sunday December 22nd to Friday December 27th $7,832.09
A spacious house, five steps from Laniakea Beach, is ideal for big families or groups.
Contains 6 bedrooms, 2 living rooms, 2 kitchens, and a game room that with 2 beds as a 7th bedroom. Partial ocean views from most of rooms. The property includes a/c, internet, sun deck, bbq, off street parking, and laundry room. This is a private, gated home.
BEDROOMS :
One: 1 Queen
Two: 1 Queen
Three: 1 King
Four: 1 Queen
Five: 1 Queen
Six: 1 Queen
Seven: The game room has two Balinese day beds, one is twin the other is a full
Other: Pack n plays, cribs and kids beds can be rented and delivered.
3 AND 4 STAR Great Family Resorts for Christmas in Hawaii
Early booking is essential if you want to travel to Hawaii at Christmas. We offer full packages with flights, accommodations and cars. Cancellation insurance covers any penalties for changes or cancellation.
Located on the west coast north of Kaanapali Beach the Aston Kaanapali Shores beachfront resort occupies 10 acres of white sand beach with tropical gardens and flowing waterfalls.
There are elegant ocean front units with extra floor space. Two bedroom Ali'i Suites are at the front of the building.
The resort/condo is a great destination for those who seek spacious accommodations with the ambience of the Hawaii experience.
Five miles to the historic Lahaina town
Dining, shops, and cultural activities
Comfortable hotel rooms, studios and one- and two-bedroom suites
Fully-equipped kitchens
WiFi throughout the resort
 Camp Kaanapali children's activity center
The Outrigger Waipouli is a deluxe oceanfront condominium that offers luxurious units with hardwood furnishings with gourmet kitchens and spacious baths. There are studios, 1 and 2 bedroom units available. Early booking is recommended as this property books up early.
The elegant heated river pool includes water slides and winds through the two-acre property. The ocean beach is not recommended for swimming, there is a public beach nearby.
Close by is the Coconut MarketPlace.
On the Kohala Coast of the Big Island.
The best winter weather in the islands is at the Hilton Waikoloa Village. The Hilton is on 62 oceanfront acres in a region that has sunshine and breezy weather with minimal rainy days.
Drive along the northwest coast, the resort is  20 minutes north of Kona International Airport.
The Hilton Waikoloa resort features tropical gardens with waterways,  recreational amenities and two championship golf courses, eight tennis courts, three swimming pools, dolphin encounters and safe swimming in the lagoon.
Private Homes on Oahu available for Christmas in Hawaii
South Shore
BEDROOMS : Four Total
One : 2 Kings, attached to full Jack & Jill bathroom, a/c
Two: 1 Queen, 1 Double in loft area of bedroom, attached to full Jack & Jill bathroom, a/c
Three: 1 King, Full ensuite bathroom, a/c
Four: 1 King, Full ensuite bathroom, ocean view, a/c
Other: There is a sleeper sofa in the living rooms. Pack n plays, cribs and childrens beds can be rented and delivered. AC in bedrooms only; fans throughout home.
 Honolulu
5 BEDROOMS :
One: 1 King, Full ensuite bathroom with shower and separate whirlpool tub
Two: 2 Twins, Full ensuite bathroom
Three: 2 Queens, Full ensuite bathroom
Four: 1 King, Full ensuite bathroom
Five: 1 Queen 1 twin ensuite bathoom
Other: Spacious half bath off hall. Pack n plays, cribs and kids beds can be rented and delivered.
5 BEDROOMS :
One : 1 King, 2 full ensuite bathrooms
Two: 1 Kings
Three: 2 Twins
Four: 1 King, full ensuite bathroom
Five: 1 King, full ensuite bathroom
Other: Pack n plays, cribs and children's beds can be rented and delivered. AC in all bedrooms; fans throughout house. A caretaker lives in a home behind Ocean Estate between the the house and the main road: The caretaker's house has its own entrance and driveway.
---
1/26/19 Aloha from Rose,
Please contact me for more information about this private home on Oahu's South Shore.
Private Home on Oahu
December 26th to January 2nd  $16,851.49 available now
BEDROOMS :
One : 1 King, Full ensuite bathroom
Two: 2 Queens, Full ensuite bathroom
Three: 1 King
Four: 2 Kings, Full ensuite bathroom
Other: There is a king size daybed in the sunroom area. Pack n plays, cribs and kids beds can be rented and delivered. The fourth bathroom is a full bathroom with bath tub and shower.
---
1/24/19 Hilton Hawaiian Village and Hyatt Regency Oahu
This spacious home features a large sunken living room and stunning ocean views. South Shore 35 has four bedrooms, four bathrooms, a fully stocked kitchen, and a large beach front lanai with plenty of spots for dining and relaxing. The ocean side of the home has multiple sliding doors that can be opened completely to the outdoors and trade winds.
Aloha from Rose,
In reply to your request for Christmas in Hawaii for 7 nights from 12/26/19 to 1/2/20.
I checked availability for Maui and Oahu and these 2 resorts are available for 4 or 5 rooms in the partial ocean view or ocean view categories. Christmas is a busy time in Hawaii and both of these resorts are good options.
On the Island of Oahu the Hilton Hawaiian Village provides many good options for accommodations.
There are 5 towers within the 23 acres of the village that offer a variety of room categories and views.
This is a good choice for families with children. The swimming conditions in the lagoon are excellent for safe swimming for all ages.  Here are a few links to some of the amenities.
 Children's Programs – Beach and Lagoon – Pools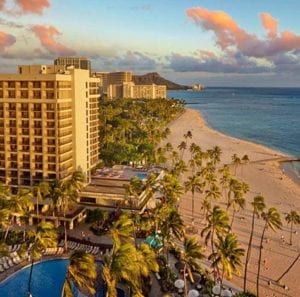 At the Hilton you may be interested in the Ali'i Tower.
The Ali'i Tower at the Hilton Hawaiian Village is on the beach with pool and exercise areas that are dedicated to the guests staying in the Ali'i Tower.
There are partial ocean view  and ocean view rooms available at this time. This is one of the only resorts on Oahu that allows you to request "guaranteed" adjoining rooms if you would like 2 room together for the family of 5.
I checked the rates and there are several options within the budget you mentioned for accommodations.
---
Hyatt Regency Waikiki Beach Resort and Spa
The Hyatt Regency is across the street from the beach. It is an upscale property and is newer than the Hilton.
Hyatt Regency Waikiki Beach Resort and Spa 4 Ocean View Rooms
7 Nights for 11 Guests
The rooms are large and the bedding offered is 1 king or 2 queens. There is no option for guaranteed connecting rooms.
The family of 5 will be able to book 2 rooms as one of the children is over 18 years old. We can request adjacent rooms.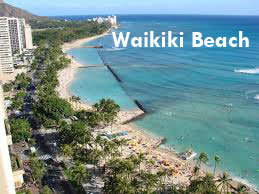 The beach is across the street where there is a peaceful lagoon for the children and good swimming and surfing for the teens.
Buffet Breakfast
*Includes daily buffet breakfast for all paying adults ages 19 & up.
The district at the Hyatt is busier than the Hilton and the rates are a little higher but it is more elegant.
I checked Maui and found the hotel rates are quite a bit higher for these dates.
I hope this is helpful.
Warmest Aloha,
Rose at Travel Guide to Hawaii707-776-6865 Text
808-330-6865 Cell
rose@travelguidetohawaii.com
http://www.travelguidetohawaii.com
I will be celebrating in Hawaii from 12/26-1/2.  We aren't sure which island is best.  We have children ages 3, 6, 14.  There will also be a high school senior and a college sophomore.  There will be 8 adults including the high schooler and collegian.