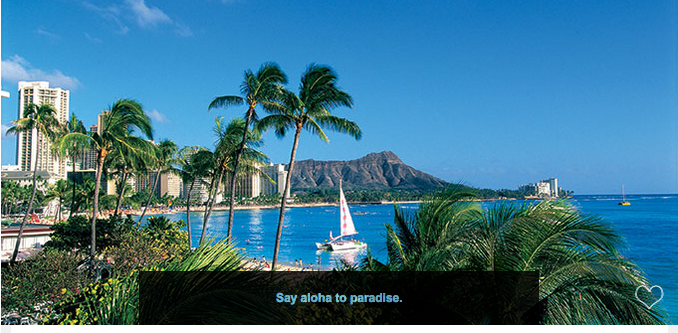 7 Day Hawaii Cruise Package
Book your 7 day Hawaii cruise package with Travel Guide to Hawaii and enjoy the 7-day cruise around the Hawaiian Islands in the comfort of your private cabin.
My name is Rose Royse and I am the publisher of Travel Guide to Hawaii.
I will do the research to plan your 7 day Hawaii cruise package vacation and I will be your primary contact throughout your trip.
As a licensed travel agent specializing in Hawaii vacations for over 20-years, I take special care of my travel clients as they become my best friends by the time their vacation is complete.
You will find my knowledge and experience very helpful in booking your Hawaii cruise package match your every need.
We will work by phone to make your 7-day cruise package vacation become a dream come true.
Every detail will be carefully planned to ensure that your Hawaii trip will be a carefree adventure for you and your traveling companions. Easy payments and travel cancellation insurance can be included in your Hawaii cruise vacation package.
Book a 7-day cruise around the Hawaiian Islands package to include flights from your departure city to Honolulu with a pre-cruise hotel and ground transportation. Ask me about cancellation insurance to protect your vacation investment.
You can include an extended stay at any island before or after the cruise.
Plan ahead for the best choices and rates and take advantage of a minimum deposit and a payment plan.
For more information about your preferred cruise travel dates please call me at 808-330-6865. I am available by appointment, just send me a text and I will call you to set that up.

Check for availability and rates for sailings through December 2019 and for sailing dates that qualify for discounts and promotions. Sailings through December 2019 available for booking now.
Contact us to learn about Hawaii cruise package deals that include a choice of one free offer.
Customized  "Unique to You" Cruise Packages, Promotions and Discounts
Call 808-330-6865 for availability and rates.
Sailings through December 2019 available for booking now.
Hawaii Cruise Itinerary
Departing on day 1 from Honolulu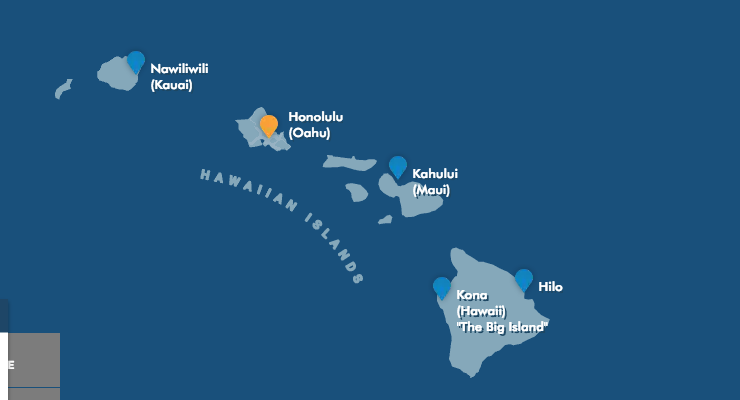 The 7 day Hawaii cruise  departs from the port of Honolulu every Saturday.
The itinerary includes overnight stays on Maui and Kauai and day visits to 2 ports on the Big Island
Cruise in luxury between the Hawaiian Islands on a 7 day Hawaii cruise departing from Honolulu every Saturday.
The weather is good all year.
Summer is in the mid-80s, winter is high 70s to low 80s.
Warm and breezy with light showers on the windward side of the islands, every day is unique.
Pride of America is the cruise ship departing from Honolulu every Saturday.
Saturday: 7 PM Departure from Honolulu
Sunday and Monday: Port in Kahului Maui
Tuesday: Port in Hilo on the east coast of the Big Island
Wednesday: Port at Kailua Kona on the west coast of the Big Island
Thursday and Friday Morning: Port in Kauai
Saturday: Disembark in Honolulu
Include a rental car for 2 days on Maui and Kauai if you want to go sightseeing on your own.
Morning arrival at the shore of Kailua Kona Village where you will be escorted to shore on a small transfer boat to enjoy shopping and dining in Kailua Kona's historic village.
Arrival at Kauai is 8:00 am on Thursday, departing at 2:00 pm on Friday.
The ship sails along the east coast of Kauai and around the north tip for views of the Napali Coast.
Returning to Honolulu you will cruise overnight, arriving at dawn on Saturday morning.
Choose from one or more of these free offers depending on travel dates.
Pre-paid service charges
Specialty dining credit
Pre or post-cruise hotel night
$50.00 per port shore excursion credits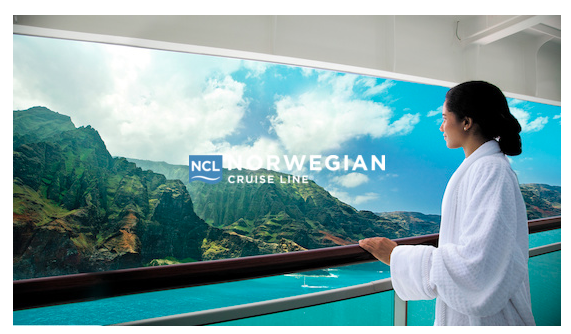 Rose at Travel Guide to Hawaii will search the promotions offered for your travel dates to select the best deal for you.
Choose from promotions that may be offered including free pre-cruise hotel or free prepaid gratuities.
Not all travel dates qualify for the "Free At Sea" promotions, we can help you choose which free offers are available for your cruise vacation to the Hawaiian Islands.
Learn more about cruising around the Hawaiian Islands.
Views of the coastline on all islands.
Views from the balconies in the public areas of the ship are excellent.
Select a cabin that fits your lifestyle and budget
7 day Hawaii cruise inside cabin can be selected with twins or queen bed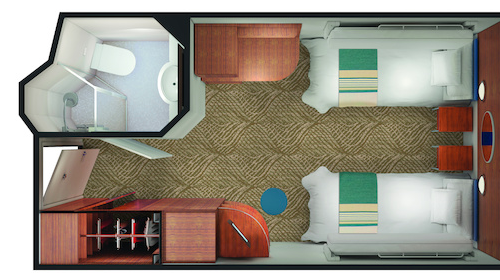 7 day Hawaii cruise ocean view cabin  with an obstructed or unobstructed ocean view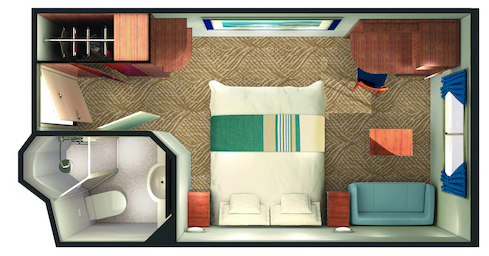 The obstructed view with window cabins are on a low deck with little or no view.
Unobstructed ocean view cabins are the same cabin layout on higher decks.
7 day Hawaii cruise ocean view cabin with balcony

7 day Hawaii cruise ocean view cabin with balcony. Lots more room and views.
The spacious feeling of the wind blowing through the open doors.
The sounds of the waves as you cruise through the open ocean between the Hawaiian Islands.
7 day Hawaii cruise owner's deluxe ocean view cabin with large balcony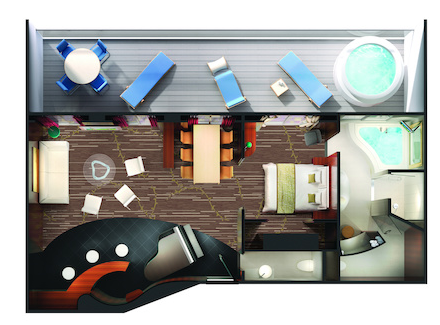 Wow, this looks really comfortable.
7 day Hawaii cruise 2 bedroom suite with balcony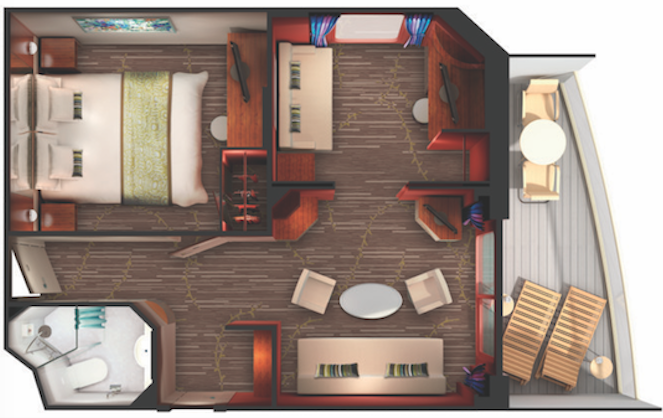 7 day Hawaii cruise 2 bedroom, 2 bath deluxe suite with balcony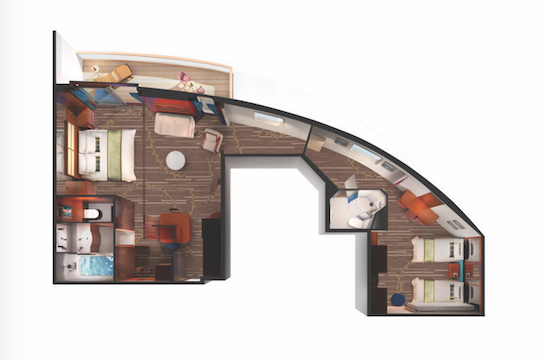 Families will appreciate the privacy of this floor plan.
Call us at 808-330-6865 Hawaii Time Zone.
Cruise Lines Hawaii Cruising Guide
Hawaii Cruise Payment Authorization
Weddings on the ship – 5 Things to Consider
Hawaii Cruise Honeymoon
---
What's Onboard Pride of America
Lights, Camera, Music! In this elegant tribute to the greatest moments of the Hollywood Musical.
Price Per Person: Complimentary
Vegas! The Show
Production Cast recreates the greatest moments in Vegas' history.
Price Per Person: Complimentary
NCL Shore Excursions help line 1-866-625-1167.